About
Hello! My name is Kati, and I have enjoyed doodling for as long as I can remember. It calms my mind and always puts me in a good mood. No matter what I try to draw, whether it's a coffee cup, a hammer or an ice cream, it seems to turn into a creature. In fact, there are a whole bunch of them, each outlined with a black fineliner.
I don't know whether these moody characters emerge from my subconscious or are channelled from a parallel universe – or perhaps they are the result of being heavily exposed to Moomins in my childhood. In any case, they seem to have a life of their own and it felt sad to resign them to a dull life locked away in a drawer. Creature Party was born out of this desire to save the little characters from such a miserable fate. Who knows, maybe they can put someone else in a good mood too! By downloading you can also adopt a creature or few under the Be Nice License.
Creature Party is my free-time project, which I expand in the quiet evenings besides doing DIY workshops and artsy projects for living. It would not have been possible without the fantastic Web skills of my friend Katrin (a.k.a polynr.), nor without my synthesizer-virtuosic brother Tomi, who made all the funky sounds. I'm very grateful to both of them!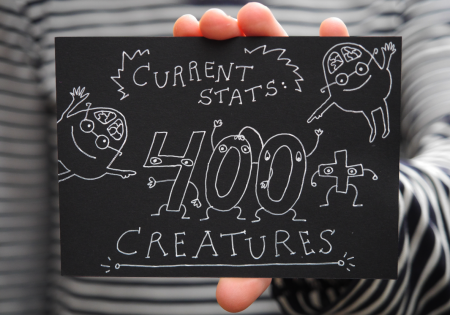 Enjoy the party and drop me a line if you have greetings or nice examples of where the creatures ended up!